Is your business operating efficiently online?
This Actionable Insight product addresses the business issue of dysfunction in online operations. We work with you and show you how to achieve success. Because showing works better than telling. This comprehensive digital MOT is designed to ensure all of your platforms (website, search engines and social media) are working as efficiently as they should be and are talking to each other.
The Process
How we work with you and show you how to achieve success.
Outcomes
So, what Actionable Insight do you get?
Plan of action
A prioritised to-do list of recommended short, medium and long-term actions.

The tools, knowledge and dashboards you need to ensure you continue to operate efficiently online.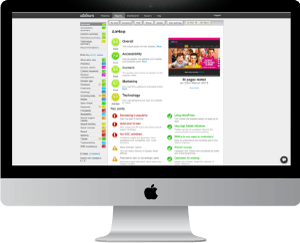 Website efficiency
Invaluable insights on your audience behaviour.

Detailed user-experience reports including a user journey video with commentary on desktop and mobile.

Prioritesed actions required in order to improve the technical performance of your website related to crawlability, content, links and coding.
Search engine optimisation
Google Search Console optimised to ensure you can monitor and maintain your site's search presence.

An overview of the keyword strategy driving traffic to yours and your competitors, see the

Actionable Insight Benchmark

for more competitor insight.

Confirmation of paid media targeting & suggested improvements for your campaigns.
Social media strategy
We track social audience, activity and engagement of your content in Facebook, Twitter and Google+ so you can implement an efficient social media strategy.

We can track and

benchmark

your competitors content and engagement to ensure you take learnings from industry success.

We monitor conversations about your brand or industry sentiment, platforms where conversations are taking place, topics and key opinion leaders. For a holistic view see the

Actionable Insight Benchmark

.
Roger brings a fabulously unique approach to getting to the bottom of the detail and his detailed but fun analysis of the issues we were facing was not only refreshing but incredibly useful. His understanding of our business was very clear and often Roger went above and beyond the job in hand in order to understand what nuances made our business 'tick'. Some small tweaks and some rather major ones were needed but each were introduced and have resulted in some incredibly positive changes to our business, the major plus of which is quicker uptake through better technology and use of social media/excellent software platforms. Roger's approach is thorough and he is a pleasure to work with.
Dan Timms
Director of Operations, Young Voices (UK) Ltd
Roger worked with creating a new website built for multiple platforms, including both desktop and mobile. He also provided advice regarding social media, in particular the way in which the institution monitored digital activity. The University was shortlisted for "Best Website" in the 2012 HEIST Awards, the main awards programme for marketing in the sector. Roger has continued to work with the Roehampton providing workshops to students on using LinkedIn, as part of a range of activities the University has in place to enhance student employability.
Paul O'Prey
Vice Chancellor , University of Roehampton
I first worked with Actionable Insight on the University of Roehampton project in 2011. Since then we have had the pleasure of working with Roger on many successful projects.
Piers Tincknell
UX Designer, Atomic Smash
Get in touch now for a free needs analysis with Roger, a trusted advisor to UK Trade & Investment.
Book your spot at our next digital audit workshop.
Listen to us online or in person in a one to many free talk. If no talks are suitable please book a free consultation.
Free website efficiency test
Fill in your details and free of charge, we will send you a website efficiency report. A great starting place for any digital audit.
Other Actionable Insight Functions