Step 7 – Measurement & Evaluation of Performance
Identifying metrics (including monitoring of Key Opinion Leaders AKA 'influencers') to measure the effectiveness of each tactic and mechanic, frequency of evaluation and monitoring certain 'KPIs' (listed below) to help you decide which changes to make and which online 'levers' to pull.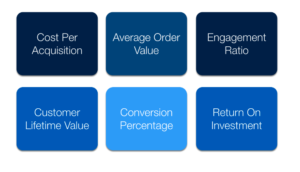 Key metrics 
What key performance indicators are needed in your measurement dashboard?
Do they include the following:-
Cost per acquisition of a new customer (cost of labour, production and media divided by the number of customers acquired in a period)

Average (or first) order value?

Customer lifetime value or the number of customers buying again

within a time? (Japanese culture understands that a customer is someone who has bought from you twice)

The conversion rate of your website?

Engagement ratio (the number of likes, comments and shares divided by the number of posts x 100 divided by the number of fans)

Return on investment/return on advertising spend (Advertising is a time tax on the poor – Scott Galloway)

 
Web measurement (Google Analytics) 
Audience 
Unique and returning visitors to the home, product, blog and contact pages

Demographics, location and mobile (to create segments) 
Acquisition 
Behaviour 
Page and content engagement 

*Top 3 products (TRW Aftermarket) 

Top 3 blogs (Top of the funnel) 
Conversions 
(Non-financial) Goals and (Financial) E-commerce 
Competitor evaluation (SEMRush) 
*Branded search" (strong metric) 

Web visits – A visit is one individual visitor who arrives at

your site and browses. Even if the same person comes back several times, each time they come counts as a visit.

Uniques – The 'unique' people who visit your site, so if someone comes back several times they still only count as one unique visitor.

Average pages/visit – The average number of pages someone visits while they're on your site.

Average visit duration – how long someone spends on your site.

Bounce rate – the amount of time someone spends on a page.

      

Social media community – the size and reach of your followers/community.

Engagement ratio – The number of interactions on a piece of content divided by the number of users following the account.
Paid
traffic (Google Data Studio via Google AdWords, Bing Ads, Facebook et al) 
Spend 

Impressions 

Clicks 

Cost per impression 

Cost per click 

Cost per goal conversion 

Click-through rate 

Quality Score 

Top 3 campaigns by cost 

Top 3 campaigns by clicks 

Top 3 campaigns by click-through rate 
Social media community (Quintly) 
Likes, follows and subscribes 

Posts

Engagement ratio 

Top 3 posts 

Top 3 audience segments 
Social media monitoring (Brandwatch) 
Mentions (positive mentions) 

Top 3 topics (key contexts) 

Top 3 locations (key locations) 

Top 3 influencers (key opinion leaders) 
Digital tools
Actionable insight 
After this step, you will have the ability to create your measurement and evaluation dashboard of key metrics which will allow you to analyse the success (or failure) of your tactics.
Take it to the next level
Do you know your key metrics today? How can you automate their calculation to save you time?